AMPERE, BETAYED, BLANK STARE, BREAKFAST, CANCER KIDS, CEREMONY, CROW, THE DAGDA, D.I.N.G., THE ERGS, FULL BLOWN CHAOS, GUNS UP, IGNITE, INMATES, INSECT WARFARE, JELLYROLL ROCKHEADS, KITE FLYING SOCIETY, LBAL, OUTBREAK, PELIGRO SOCIAL, PISSED JEANS, SOIA, SINKING SHIPS, THE VICIOUS, HaC



AMPERE/SINALOA - Split LP $8.00
Ampere continues their emo-violent attack with 7 new tracks bursting with rage and harsh beauty. Sinaloa' 5 tracks are more traditional emotive hardcore without the rage and violence. They have a definite Moss Icon feel to their sound. Melodic and passionate. Both formats come packaged in full color covers with a full color insert as well as a booklet. Ampere features ex-members of Orchid, Bucket Full Of Teeth, Laceration, Stop The Clock, Wolves, and The Last Forty Seconds while Sinaloa features ex-members of Ettile Vyre and Ache.


BETRAYED - Substance LP $10.00 CD $10.00
If there's any band that can incite a circle pit or inspire the kids to raise their fists and mosh till they can mosh no more, it's certainly Betrayed. If there's any band that plays hardcore from the heart, it's definitely Betrayed, who are newly signed to Equal Vision and are armed with a brand new album, the fittingly titled "Substance". There's nothing processed, homogenized, over thought, or stale about "Substance". It's got a pulse, a vibe, and a heart. It favors fiery passion over flash, and substance over style. If there's one thing the current hardcore scene is lacking in 2006, it's a throbbing, beating heart that ignores image and encourages emotion. Thankfully, Betrayed are here to inject the scene and the youth of today with a much-needed shot of loud, fast hardcore.


BLANK STARE - White Hell 7" $4.00
Fresh off the release of their self-titled debut 7", Boston's Blank Stare get right back into the fast hardcore they became known for off of the first record. This release is only three songs but it delivers the goods with plenty of angst and fury.


BREAKFAST - 3rd & Army LP $8.00
625 continue their support of Japanese fastcore with Breakfast's LP "3rd & Army". With the cover done by none other than Raymond Pettibon, Breakfast rip through fourteen songs of speedy thrash mixed with California skate punk, utilizing Minutemen-styled riffs thrown in between blast beats.


THE CANCER KIDS - Possible Dream LP $9.50
The Cancer Kids is ex-members of the legendary cult Bucket Full Of Teeth, and was produced by genious Will Killingsworth of Orchid/Bucket Full Of Teeth/Ampere glory. The record itself is made up of eighteen blazing songs of thrashy powerviolence but with stunning musicianship and powerful vocals. Limited to 700 copies.


CEREMONY - Violence Violence LP $8.00 CD $10.00
After a well received demo (1000 printed) and a debut 7" that sold 2,000 copies in less than a year, Ceremony gives us "Violence Violence," their 15 song debut full length. If "Ruined" was their declaration, "Violence Violence" is their first wave assault, a soundtrack to wage war. A war against everything that hardcore has stood against, but now has been co-opted into its ranks. There's no TRL song on here, there's nothing that'll be heard at a school dance. Hardcore for the hardcore. CD includes the out-of-print "Ruined" 7" as bonus tracks, and the LP is limited gatefold.


CROW - Bloody Tear LP $9.00
Bombastic crust-metal from Tokyo, an ultra brutal lightning attack of searing riffs, wild solos, screaming vocals and crushing rhythm section. Bleak intent and searing metallic mayhem, Crow have dotted the landscape of Japanese hardcore punk since it's inception and just seem to get more devastating with age! This is their first full length/second LP since the 1980's with 9 tracks. Some of the songs are intense re-recorded versions of some of their classic tracks (including their signature track "Give Up All Hope" that has been covered by numerous bands including the UK's legendary Doom) as well as new recordings of songs from their recent ultra-limited Japanese releases. This is the official vinyl release of this new LP, which was released as a CD-Only on the Mangrove label in Japan. The LP sequence has slight variations in both track listing and mixes. Crow have toured the West Coast twice, releasing the well received 7" "Neurotic Organization" and split EP with Artimus Pyle previously on Prank.


THE DAGDA - Gatefold LP $10.00
A coop between Ruin Nation, Unsociable, Destructure and Rinderherz Records. A new 7 song farewell LP from this outstanding band from Ireland that represents their most intense and diverse release ever! Too sad to say, but it´s their last one to date as the band defunct last summer. - a heavy, mystique´n´tribalist dark hardcore punk and a blast of a powerfull production. Lyrically highly spiritual influenced as the artwork has a strong paganistic feel as well! Comes in a heavy gatefold sleeve.



DEATH IS NOT GLAMOROUS - Undercurrents CD $8.00
Formed from the ashes of Livewire Records' own Damage Control, Norway's Death Is Not Glamorous move away from the more youth crew sound and more towards the melodic hardcore side of things. These seven songs are the perfect follow up to their highly acclaimed 2004 demo, with the music being very much like that of Lifetime, Kid Dynamite and "Can't Slow Down"-era Saves the Day.


THE ERGS - Coke Is The New Jazz 7" $5.00
The Ergs! from New Jersey play intensely with the melodies of The Replacements and The Descendants, and with the energy of old Husker Du. This record is limited to 250 copies!


THE ERGS - Jersey's Best Prancers CD $7.00
On this, the CD version of the out of print and highly sought after 12" EP, the Ergs sound less influenced by early hardcore and more inspired by their well-worn copies of Flip Your Wig and Allroy For Prez. The production (again courtesy of Chris Pierce) and playing are out of this world.


FULL BLOWN CHAOS - Within The Grasp Of The Titans CD $10.00
Since the release of 2004's "Wake the Demons", Full Blown Chaos has been furiously criss-crossing the country touring in support of that record, only pausing briefly to record "Within The Grasp Of Titans" at Trax East in February of 2006. What the band produced is another testament to their ability to play some of the most destructive metallic hardcore this side of Hatebreed, Sworn Enemy and 100 Demons.


GUNS UP - Outlive LP $9.00
The follow up to the powerful EP "All This Is", "Outlive" is the first full length from MA's Guns Up! and their second release on 1917 Records. This picks up right where they left off, with eleven tracks of New York style, groove-oriented hardcore that pays tribute to bands like Leeway and Cro-Mags.


IGNITE - Through Our Darkest Days LP $8.00
Formed in suburban Orange County in 1994, Ignite deliver a passionate and truly unique mix of hardcore, rock, and punk that has taken them and their message to over 30 countries worldwide. Their high-spirited career includes critically lauded records such as "A Place Called Home" (2000), "Past Our Means" (1996) and "Call On My Brothers" (1995). "Our Darkest Days" shows a matured version of the intelligent, socially and politically aware, melodic brand of hardcore that IGNITE fans have come to expect.


INMATES - Asshole Unanimous LP $8.00
Boasting both Melnick brothers from Integrity, Cleveland's Inmates play a raging, offensive style of hardcore punk rock that mixes the guitars and intensity of Integrity with the speed and outrageous behavior of bands like Gordon Solie Motherfuckers and 9 Shocks Terror. Pure hateful Cleveland thrash.


INSECT WARFARE - Endless Execution 7" $4.00 CD $7.50
Insect Warfare are single-handedly putting Gulf Coast grindcore on the map, first with the "At War With Grindcore" EP, and now with this, another seven songs of sheer classic early-Earache Records-influenced insanity. The CD version includes this 7" as well as the "At War With Grindcore" 7", tracks from the split with Hatred Surge, a few comp tracks and the original rehearsal demo, adding up to 29 songs in total.


JELLYROLL ROCKHEADS - Wake Up, Music A Discography LP $8.00
Japan's Jellyroll Rockheads played the most manic, unique fastcore known to humans in their day, and 625 records has captured their sound of Gang Green on speed on this discography LP. All of the band's recordings can be found here, including both 7"s, the split with Exclaim, the debut demo tape, a comp track, a few live songs from their west coast tour in 2001 and an unreleased demo track that clocks in at over seven minutes.


KITE FLYING SOCIETY - A Discography CD $9.00
Finally, the discography from Florida's Kite Flying Society sees the light of day. This band has a cult following and their releases never had proper distribution, and often sell for stupid prices on the internet. This CD collects the self-released 7", the self-titled (a.k.a. "Pink") CD, and the "Jochem" CD, along with 7 unreleased songs, 4 live songs, and the original 2-song demo tape. One-time pressing of 1000 copies.


LOOK BACK AND LAUGH - Street Terrorism 7" $4.50
Oakland's Look Back And Laugh once again destroy the competition with five unreleased songs that are as fast and angry as anything they have ever put out. With female vocals and songwritings and stylings comparable to that of members' previous bands Talk Is Poison, this 7" is filled with pounding bass, the best drums this side of Dave Witte and thought-provoking lyrics.


OUTBREAK - Failure LP $8.00
Sixteen brand new songs make up the bands debut full-length and in true punk fashion the record clocks in a hair over 20 minutes. Though this is Outbreak's first full-length, in their five year existence they've managed to release two EP's and become true road warriors, playing hundreds of shows in thirteen countries, including tours with every one from Agnostic Front to Bane.


PELIGRO SOCIAL - No Religion LP $9.00
Peligro Social from San Francisco with their debut LP charge forth with a perfect blend of punk rock guitar riffs and raw melody at a skill level to rival classics from 80's UK and Spanish legends such as The Insane, The Partisans, Escorbuto, or La Uvi. Easily accessable to people with different musical tastes with elements of rockin'roll, punk, and current sub-genres, but still very comfortably fitting into the punk label with snotty Spanish vocals and scathing backup choruses. It's been a long time since I have heard anything this original and pure sounding, this album in any right is destined to be a classic. Check out mp3's at www.karaterex.com/tankcrimes/.



PISSED JEANS - Shallow LP $10.50
Now available on vinyl with a gatefold cover and newly signed to Sub Pop!, Pissed Jeans belt out 8 pissed off songs of droning punk noise. Recommended for fans of Fang, Flipper and Stickmen With Rayguns.


SICK OF IT ALL - Death To Tyrants LP $8.50
As one of the longest standing bands still proudly waving the flag of New York Hardcore, Sick Of It All have made their mark as one of the cornerstones of NYHC, proving that heart, hard work, and dedication to hardcore is about more than just the music and an image, it's a way of life. The four-piece celebrates their 20th anniversary in 2006 coinciding with the release of the band's 9th full-length record (not including several EPs, singles, and live recordings). Under exclusive license from Abacus Recordings, Think Fast! Records is honored to bring you the LP vinyl version of "Death To Tyrants".


SINKING SHIPS - Disconnect LP $8.00
Seattle's Sinking Ships full-length Revelation debut, "Disconnecting," is a look at the trials and tribulations of everyday life. Weaving elements of melody and hard edge riffs, Sinking Ships are creating a sound all their own, somewhere between the familiar echoes of hardcore bands like Bane and In My Eyes, but with their own distinct morose overtones.


SMALLTOWN - The Music CD $10.00
Great melodic mod influenced punk - ultra catchy, anthemic songs with raw tuneful vocals, and teeth clenching riffs. Think the Strike and Stiff Little Fingers.


TRAGEDY - Nerve Damage LP $10.00
These sold out in just a few hours. I will order more ASAP.

THE VICIOUS - Obsessive 7" $4.50
Sweden's The Vicious are another retro outfit that sounds fresh in the modern day soundscape. This is late-'70s Los Angeles sounding punk rock akin to Avengers, The Bags, or say 45 Grave but with male vocals.


HEARTATTACK - Issue 50 Zine 25cents (that is below cover price)
This is the 50th and final issue of Heartattack fanzine, and may be the best to date musically speaking. Within the pages are interviews with bands like Dead Stop, The Repos, Fucked Up, Bullets In, Meth & Goats and more, as well as the last time you'll ever read their columns, letters and reviews






The fun doesn't stop here! I have tons of other records for sale.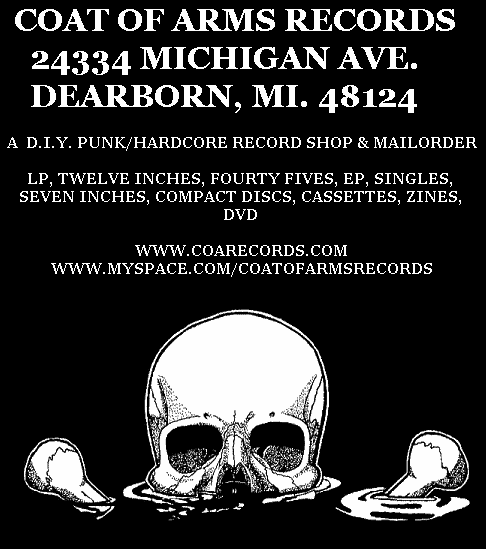 orders AT coarecords DOT com
Shipping and, if need be, Paypal fees are not included.